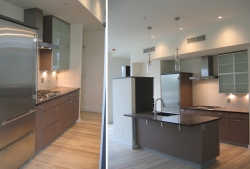 Your Cabinets
General Casework Inc. manufactures fully assembled frameless cabinets for cabinet shops. Our facility utilizes an investment in state-of-the art technology to create quality cabinets in a short period of time for a great value.
Increase your productivity and profits by letting General Casework build the standard cabinets while you concentrate on the high margin custom work.
We will manufacture a single drawer front because we are an extension of your shop.
There's no escaping our quality: Because we are making cabinets for other cabinet shops, we have to produce top quality cabinets. We must meet and exceed your standards - that is why our customers keep coming back to us.