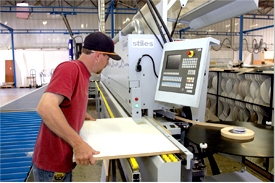 Technology
With our state-of-the-art European CNC production line, your cabinets are completed incredibly quickly.
While our "advertised" lead time is 3 weeks, if the materials are in town, we typically have cabinets ready in less than 2 weeks.
Most projects are completed in less than three weeks when standard materials are selected. Contact General Casework today with you material specification to check lead times
Change orders and rework are expedited like they would come out of your shop the next day.
Check out our frameless cabinets on Google 3D Warehouse.
Draw your project in 3D quickly with Google Sketchup.